WIDE Project:
Established in 1985, WIDE Project is a research and operation project related to the Internet. It is responsible for the operation of ARENA-PAC. From now on, WIDE Project will participate in and cooperate with research and educational projects that utilize ARENA-PAC.
APNIC:
APNIC is a regional Internet registry that manages IP addresses in the Asia Pacific region. Besides, APNIC helps build essential technical skills and supports Internet infrastructure development across the region. APNIC is also supporting ARENA-PAC activities.
APIDT:
Asia Pacific Internet Development Trust (APIDT) is a joint initiative established by WIDE and APNIC to contribute to the development of the Internet in the Asia Pacific region. ARENA-PAC is one of several projects that receive support from this initiative.
Keio University KGRI-CCRC:
Keio University Cyber Civilization Research Center (KGRI-CCRC) is a research center within the Keio University Global Research Institute that explores the risks and benefits posed by technological advancements, analyzes their expected societal impact, and devises tools and methods to support effective future planning. KGRI-CCRC is the secretariat for ARENA-PAC and responsible for the promotion of ARENA-PAC research.
Collaborator
AI³ / SOI Asia:
AI³ and SOI-Asia are sub-project of the WIDE Project. AI³ , started from 1996, is a project to connect universities in Southeast Asian countries via satellite links. SOI-Asia , started from 2001, aims to promote university research and educational cooperation based on this infrastructure. Through the collaboration between ARENA-PAC and AI³/SOI-Asia, research and development of the technology to implement the Internet backbone using submarine cables and satellite communications are underway.
UoG (University of Guam):
The University of Guam (UoG) is a public (land-grant) university located in the U.S. territory of Guam. UoG, under technical cooperation with the University of Hawaii, has established GOREX*¹ and is responsible for the local operation of GOREX. UoG helps the on-site technical operation of ARENA-PAC in Guam.
UH (University of Hawaii):
The University of Hawaii (UH) is a state university in Hawaii, USA. As part of the NSF-funded IRNC PIREN agreement, GOREX was established with partner organizations. ARENA-PAC is interconnected with various education and research networks in Guam via GOREX. ARENA-PAC is also interconnected with the UH, traffic from the NAOJ Hawaii Observatory to Guam is carried via a network operated by UH.
*¹ GOREX: Guam Open Research & Education eXchange (GOREX) is an open Internet exchange for education and research network based in Guam, founded by the University of Hawaii. GOREX is one of the first bases that ARENA-PAC connected to. The future expansion plan of ARENA-PAC is also centered on Guam, and GOREX is a vital Internet exchange for interconnection with other organizations.
NAOJ:
The National Astronomical Observatory of Japan (NAOJ) is the national center of astronomical research. NAOJ analyzes and researches observational data obtained from an observatory in Japan, Hawaii, and Chile through telescopes and observational instruments. NAOJ conducts research activities by utilizing international education and research networks, including ARENA-PAC.
Affiliation
APOnet:
The Asia Pacific Oceania Network (APOnet) is a global research and education network connecting the Asia Pacific Oceania Region, started in June 2021. Eleven global leading-edge research and education networks in North America, East Asia, Southeast Asia, and Oceania are participating in the collaboration.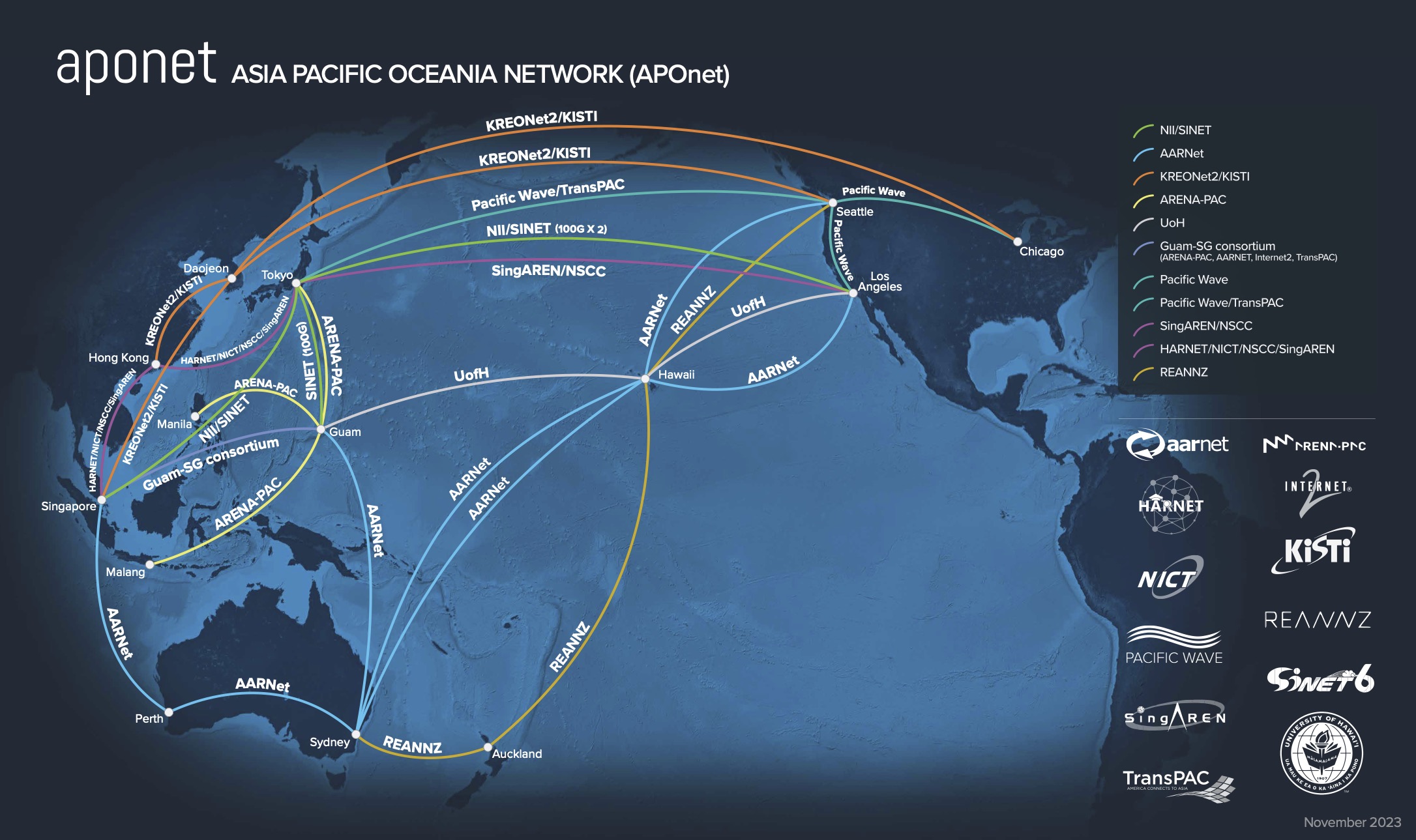 Guam–Singapore Connectivity Consortium:
A consortium jointly started by ARENA-PAC, AARNET, Internet2, TransPAC. The consortium plans to offer the new high speed link between Singapore and Guam and will connect GOREX and the SingAREN Open Exchange (SOE).