November 10, 2022
APOnet members are being recognized with the SCinet Spirit of Innovation in supporting large-scale international science at the SC22 (https://sc22.supercomputing.org/) held from 13 November,  Dallas, in Texas, USA. SC is the international conference and exhibition held in the United States in November every year and it focuses on High Performance Computing, Networking and Storage and Analysis. SCinet is a collaborative effort by over 175 volunteer experts from 80 volunteer organizations that span industry, academia, and government. This spirit of collaboration is a major driver for the success and innovation that SCinet delivers on a yearly basis.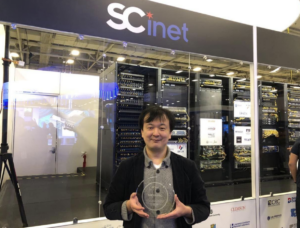 APOnet, is a consortium of twelve leading-edge research and education networks in North America, East Asia, Southeast Asia, and Oceania.
WIDE Project and ARENA-PAC continue to collaborate with APOnet members to improve high-speed network services in the Asia Pacific Oceania region. For further information, please refer to the following link.
Press Release (Full): https://sc22.supercomputing.org/2022/11/15/scinet-spirit-of-innovation-award-recognizes-17-contributors-role-in-supporting-international-science-activities-for-sc22%ef%bf%bc/