Keio University and Universitas Brawijaya Unveiled Indonesia's First 8K Uncompressed Video Conference
Arterial Research and Educational Network in the Asia Pacific (ARENA-PAC), operated by the WIDE Project, with Indonesia Research and Education Network (IDREN) and Universitas Brawijaya (UB), held a ceremony to mark the operation of a 100 Gbps high-speed network for education in Indonesia on August 9, 2023.
The venue in Indonesia connected to Keio University Hiyoshi Campus in Japan using an 8K uncompressed video conference. This episode marked the first 8K ultra high-definition video conference in Indonesia. It demonstrated the high capacity and low latency of the research and education network that spans across the Pacific.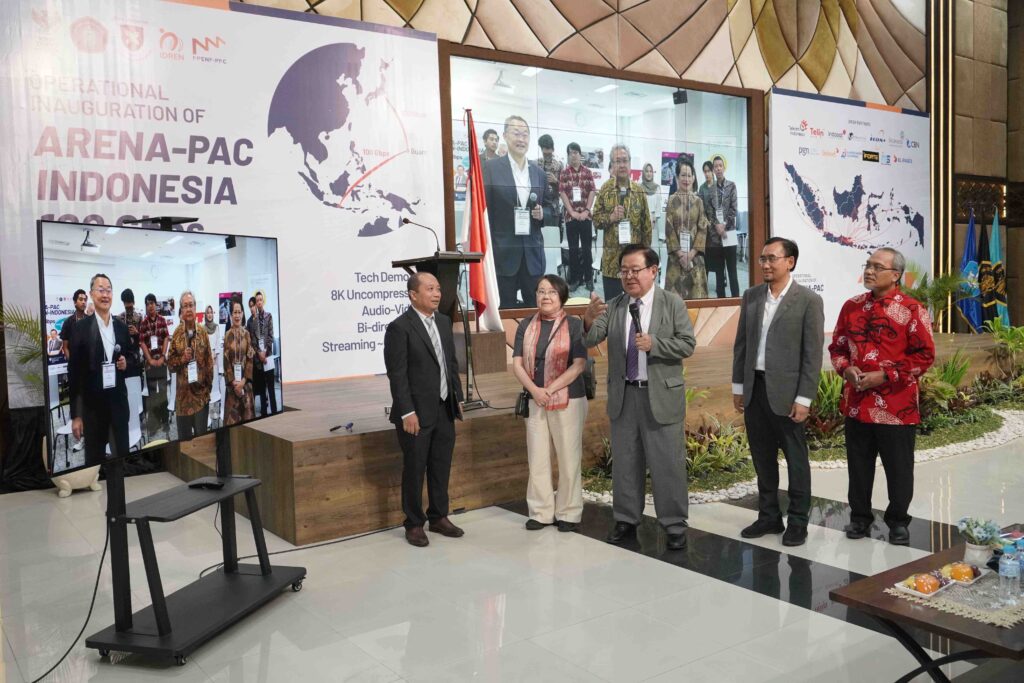 The representatives of the three organizations, Prof. Widodo of UB, Prof. Jun Murai of ARENA-PAC, and Dr. Achmad Affandi of IDREN, attended the ceremony at UB. Meanwhile, the Ambassador of the Republic of Indonesia to Japan, H.E. Heri Akhmadi, and the Vice President of Keio University, Prof. Eiji Okada, attended remotely from Japan. In the audience in both venues, students witnessed this memorable ceremony and enjoyed the interaction.
In his keynote speech, Prof. Murai said, "We sent a message to global leaders at G7, G20, and OECD that research and educational networks are important." He emphasized that we need to work together for the next stage of the global internet from the research and educational networks point of view, working with commercial internet service providers, technology, and application people for many scientific purposes such as high energy physics, medical, and astronomy. Murai added that we should also work with other regions: EU, Americas, and Africa for the global research and educational network. Murai appreciates Indonesian universities and the IDREN mechanism, which he sees as unique because universities work with internet service providers that commit to supporting IDREN.
H.E. Heri Akhmadi reminded the audience that this commencement is also timely, given the 65th anniversary of diplomatic relations between Indonesia and Japan. H.E. also mentioned: "The establishment of ARENA-PAC and IDREN […] symbolizes an essential platform for Indonesian universities and research institutions to forge international collaborations in diverse fields." He added that "this connectivity will foster research partnerships, promote knowledge sharing, and open up new avenues for collaborative research initiatives that can address global challenges effectively."
The rector of UB, Prof. Widodo, explained that this inauguration is a follow-up to MoU signed between the three organizations in 2022. Emphasizing that this network is all about collaboration, he said, "This network infrastructure is not only about data transfer but also a channel to be able to collaborate, innovate faster and be ready to jump in the digital era which will be dedicated to education and research."
He said this network connects IDREN with UB as the gateway to Tokyo and several other locations via Guam. In addition, this collaboration is also a big leap for Indonesia to be connected to the current global research and education network.
Keio University's vice president, Prof. Eiji Okada, shares his thoughts on the potential of ARENA-PAC and other research and education networks as an infrastructure for collaboration. "Research fields such as artificial intelligence and biomedical imaging generate and use data in high volume. This infrastructure is a good fit for such research, connecting professors, researchers, and students."
Acting Secretary of the Directorate General of Higher Education, Research and Technology, Prof. Tjitjik Sri Tjahjandarie, hopes this collaboration will kick off further collaborations in research and education. Furthermore, she said, "IDREN should expand its coverage, especially in eastern Indonesia."
The organizers would like to acknowledge the cooperation of supporters and collaborators who have played an instrumental role in making this event successful. Special thanks go to Astrodesign for the 8K-related technological support on both venues, as well as Seiko Solutions, Juniper, and Arista Networks for supporting the network equipment to enable time-sensitive video and audio data transfer between both venues. The 100 Gbps connectivity between Keio University and ARENA-PAC was supported by SINET6, a research and education network operated by NII (National Institute of Informatics, Japan), and GXP-Tokyo, a global exchange point for RENs.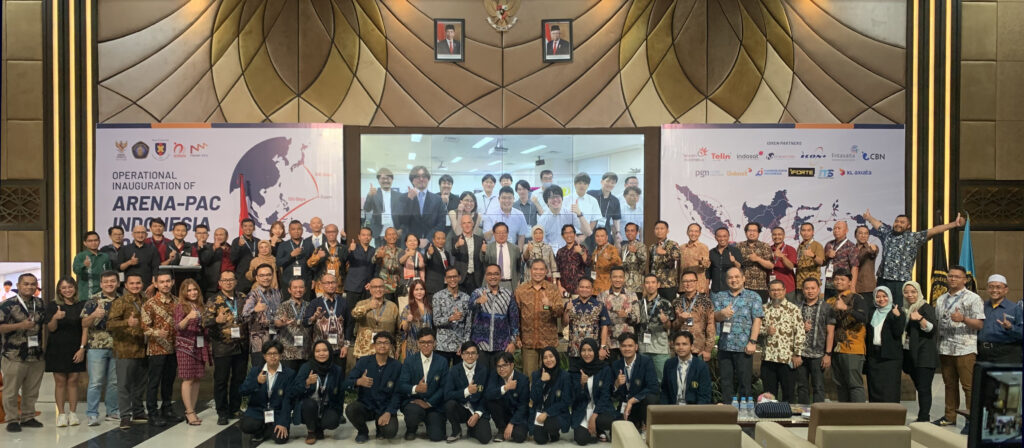 Inside the event : https://youtu.be/CgZiZs0bYWU