ARENA-PAC, Brawijaya University, and IDREN Agree to Collaborate on 100 Gbps Network for Research and Education
September 1, 2022
On August 31, 2022, Arterial Research and Educational Network in the Asia Pacific (ARENA-PAC), Universitas Brawijaya (UB), and Indonesia Research and Education Network (IDREN) signed an MoU agreeing to cooperate in the operation and development of a high-speed network, namely 100 Gbps, for research and education activities.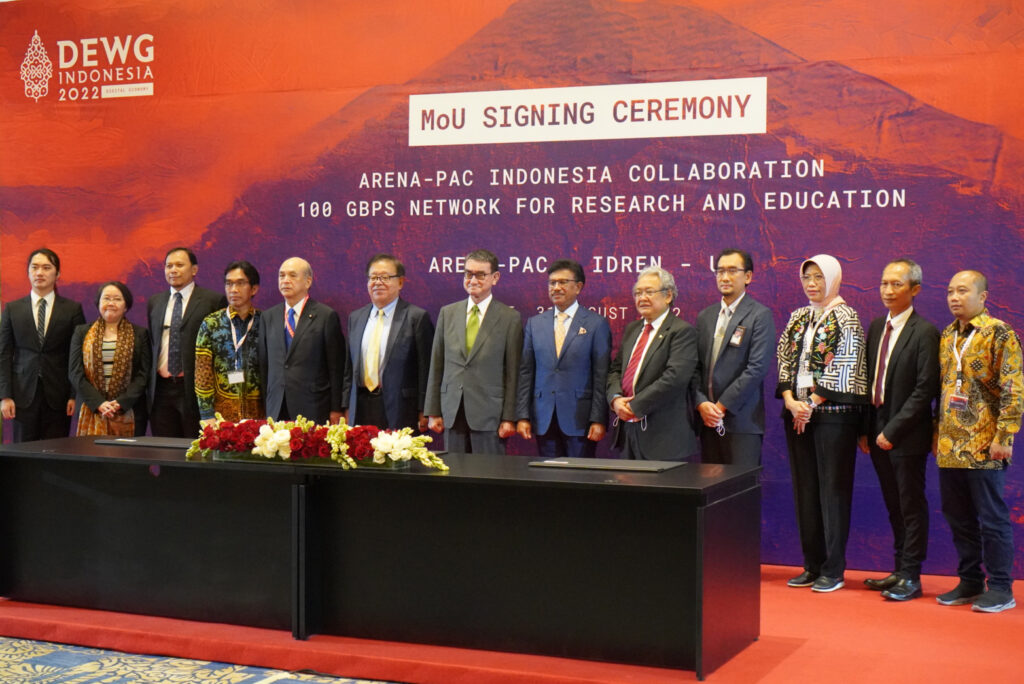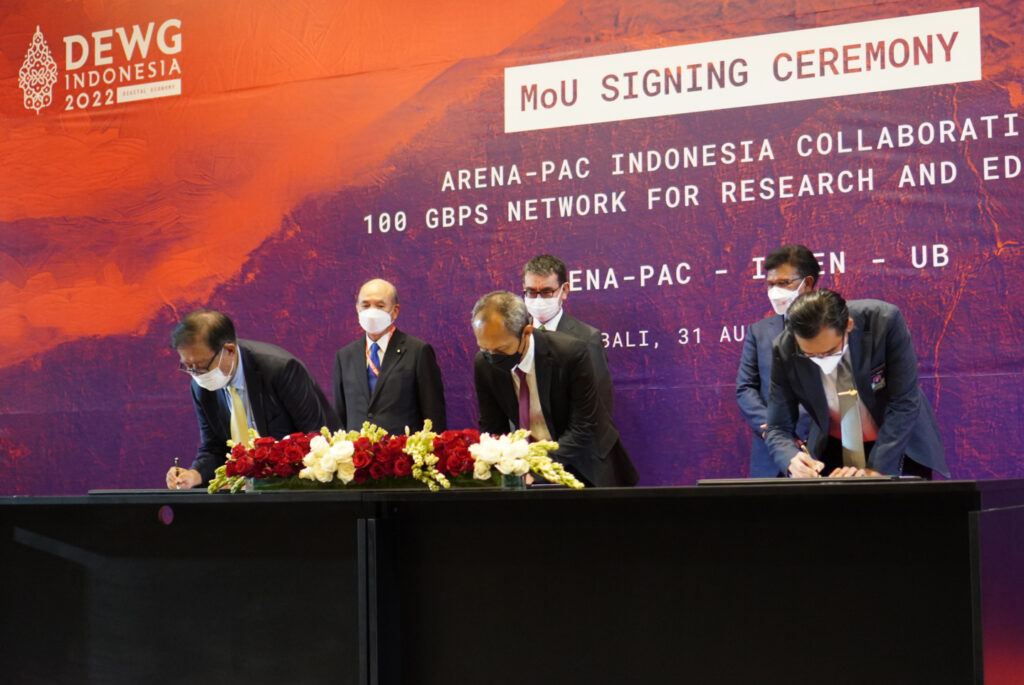 The signing of the MoU was held on the sidelines of the G20 Digital Economy Ministers' Meeting in Bali, and was witnessed by Minister of Communication and Informatics Johnny G. Plate and Minister for Digital Transformation of Japan Kono Taro. Indonesian Ambassador to Japan Heri Akhmadi and Secretary of the Directorate General of Higher Education Prof. Tjitjik Srie Tjahjandarie, State Minister for Internal Affairs and Communications Yoshifumi Tsuge were also present.
The 100 Gbps ARENA-PAC network connects to IDREN, with UB as its gateway, to Tokyo and other locations through Guam. This network is a giant leap forward for Indonesia, with speeds 100 times greater than the network that currently connects Indonesia, with the gateway located at ITB, to the global research and education network. Also, it significantly contributes to building vital research and education cooperation between Japan and Indonesia.
With this network, more than 40 universities and other institutions currently connected to IDREN will be able to exchange data more quickly with further research and education institutions abroad.
Activities carried out in the IDREN community include sharing access to distributed high-performance computing facilities between campuses through network infrastructure and expansion of network connectivity in collaboration with various Internet service providers. Another example is medical education activities by broadcasting live surgery from the operating room to doctors and medical students using high-definition video streaming.
The additional speed is expected to further encourage such activities, increasing Indonesia's capability and contribution to research and education, while accelerating digital transformation in both fields.
According to Prof. Widodo, Rector of Brawijaya University, IDREN's gateway to ARENA-PAC,

"This 100 Gbps line is a hundred times faster than the current Indonesian REN to global REN line and is certainly an important milestone for UB and research and education institutions in Indonesia. These are valuable opportunities and challenges for us to accelerate digital transformation in all fields, especially for research and education, which provides opportunities for Merdeka Belajar Kampus Merdeka (MBKM) activities with IDREN."

Prof. Widodo, Rector of Brawijaya University
In his speech, Prof. Jun Murai, Co-Director of ARENA-PAC, said

"The 100 Gbps network to IDREN, Indonesia's research and education network, creates a great history for the future, not only for Indonesia but also for the Asia-Pacific region for academics for a resilient society. I hope this network contributes through cooperation between Indonesia and other Asia-Pacific countries, as well as the rest of the world, to create a better future."

Prof. Jun Murai, Co-Director of ARENA-PAC
Meanwhile, Dr. Achmad Affandi, chairman of IDREN, said

"IDREN seeks to encourage education and research collaboration through high-speed data communication networks in Indonesia. IDREN's 100 Gbps ARENA-PAC network will enhance infrastructure facilities and accelerate education and research collaboration to regional and global levels. Students, faculty, and researchers will have access to high-definition data, cloud, AI computing and multimedia communications, and collaboration opportunities with global universities/research institutions."

Dr. Achmad Affandi, chairman of IDREN
Indonesian Ambassador to Tokyo Heri Akhmadi welcomed the 100 Gbps cooperation, a concrete deliverable for the digital transformation pillar of Indonesia's G20 Presidency. Mr. Heri Akhmadi said,
"This high-speed access network will certainly further encourage the development of research and higher education cooperation between Indonesia and Japan, especially in the realization of Society 5.0. The Indonesian Embassy in Tokyo is ready to ensure the follow-up of this digital transformation cooperation."

Mr. Heri Akhmadi, Ambassador of the Republic of Indonesia for Japan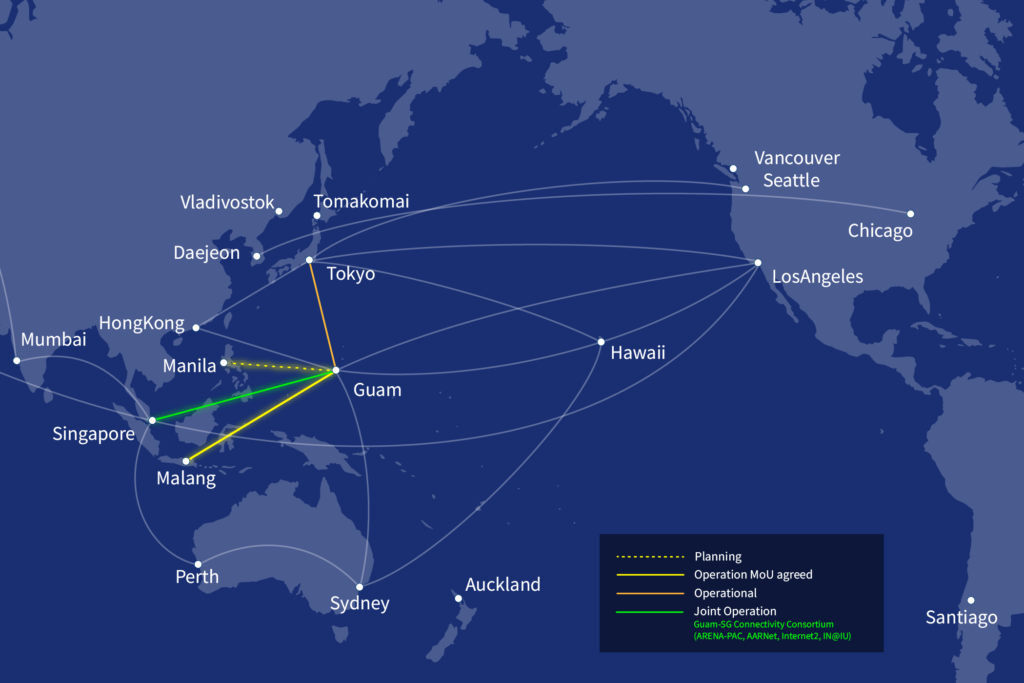 *Glossary
ARENA-PAC (Arterial Research and Educational Network in the Asia Pacific) is a backbone network with the purpose of research and education and is made up of an international submarine cable network constructed with the goal of expanding the Internet in the Asia Pacific region. ARENA-PAC is a project of the Asia Pacific Internet Development Trust (APIDT), and is operated by WIDE Project with support from APNIC (Asia Pacific Network Information Centre). The project secretariat is operated by the Cyber Civilization Research Center at Keio University Global Research Institute.
Universitas Brawijaya (UB) is a public institution in Indonesia that plays an active and leading role as one of the gateways of IDREN connectivity. The university is strongly committed to developing research and education through various collaborative activities between institutions in Indonesia.
IDREN (Indonesia Research and Education Network) is a specialized network for the research and education community in Indonesia. This network is a continuation of the Inherent initiative. Originally initiated by Universitas Brawijaya (UB), Universitas Gadjah Mada (UGM), Institut Teknologi Bandung (ITB), Institut Teknologi Sepuluh Nopember (ITS) and Universitas Indonesia (UI) it now connects 82 educational and research institutions in Indonesia. The network is dedicated to the high speed data communications connectivity required to enable the community of researchers, academics and developers to collaborate together.
Media contact: Achmad Basuki (IDREN & UB) abazh[at]ub.ac.id/abazh[at]idren.id