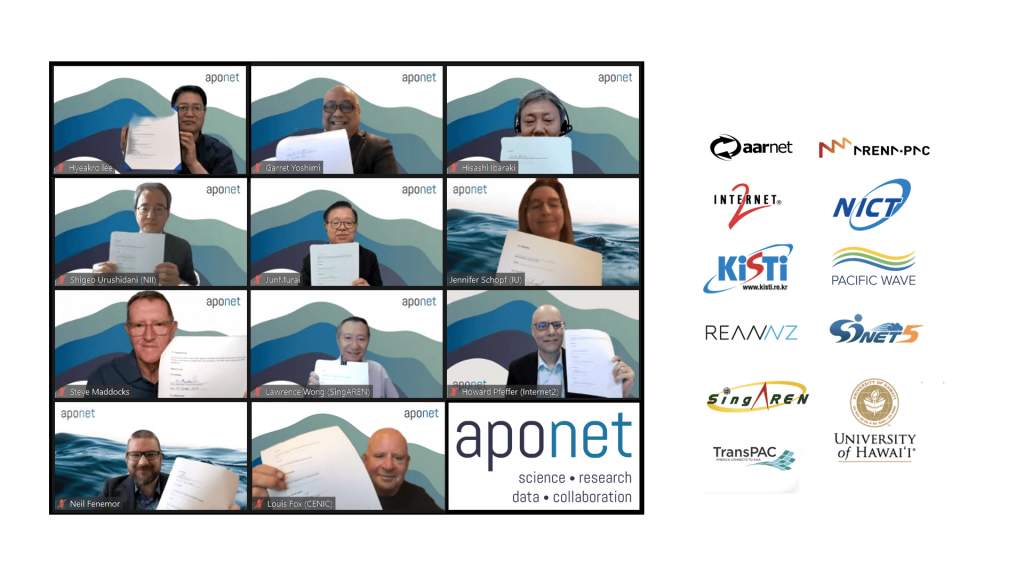 *Click here to view Japanese version
Tokyo Brisbane — June 17, 2021 — Eleven global leading-edge research and education networks in North America, East Asia, Southeast Asia, and Oceania have agreed to collaborate to improve high-speed network services in the Asia Pacific Oceania region.
The Asia Pacific Oceania network (APOnet) collaboration will connect East Asia, Southeast Asia, Oceania, and North America. The networks and organizations involved are:
Australia's Academic and Research Network

(AARNet)

,
Arterial Research and Educational Network in Asia-Pacific

(ARENA-PAC)

,
University Corporation for Advanced Internet Development d/b/a

(Internet2)

,
Korea Institute of Science and Technology Information

(KISTI)

,
National Institute of Information and Communications Technology

(NICT)

,
National Institute of Informatics

(NII)

,

Pacific Wave

International Exchange
Research and Education Advanced Network New Zealand

(REANNZ)

,
Singapore Advanced Research and Education Network

(SingAREN)

,

TransPAC

, and
University of Hawaii

(UH)

.
These 11 research and education networks and organizations support important multidisciplinary discoveries made by teams of experts spread around the world, collaborating and sharing data and scientific instruments across national boundaries. Explosive growth in the resolution of sensors and scientific instruments, very high-resolution imagery and video, coupled with global scale instruments, has led to unprecedented volumes of experimental data.
To support these multinational collaborations and associated data requirements, these global research and education networks will contribute resources that together can be managed to create a high-speed trans-oceanic network services delivery system that is more resilient, flexible, and consistent than any individual network on its own. The intent is to elevate the services available for research and education across all of the collaborating networks.
The scope of this collaboration includes enabling multiple paths between R&E networks, providing backup connectivity in case of network outages, coordinating engineering and management activities, cooperating on deployment of emerging network technologies and services, experimenting with and developing applications with high-bandwidth demands, supporting shared routing practices, and sharing of measurement data.
APOnet Website: http://www.aponet.global/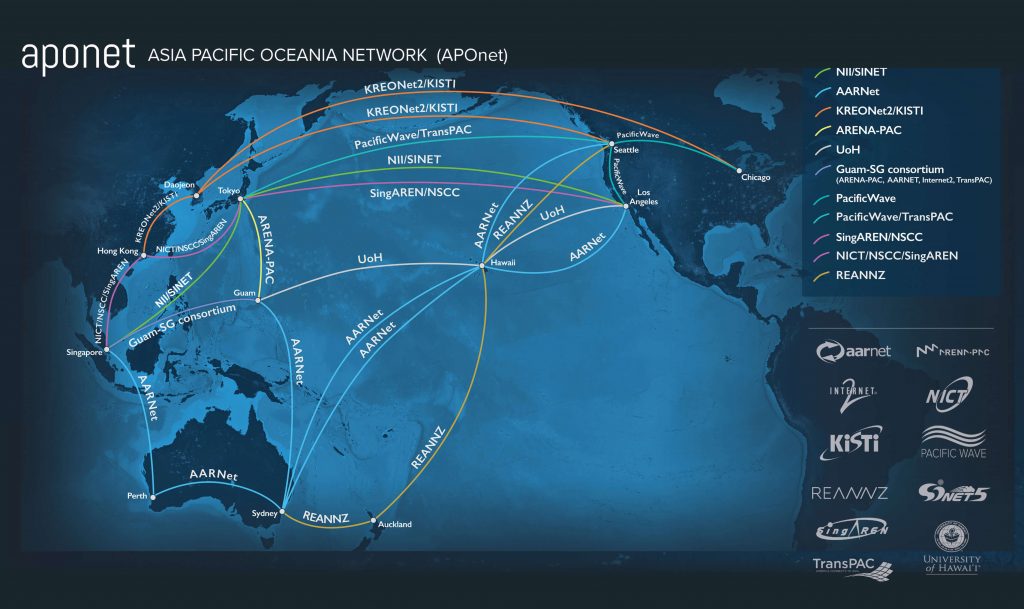 ---
ARENA-PAC is a new form of research and education network based on submarine cables in the Asia-Pacific region that was launched as a project of APIDT that is based in Brisbane, Australia. It originated from the WIDE project international connection that has been a collaboration of the International Research and Education Network in Asia Pacific for a long time. The operation of ARENA-PAC will continue to be handled by the WIDE Project, along with Asia Pacific colleagues, especially AI3, SOI ASIA, and APNIC, who have worked closely with each other. In addition to promoting regional research and education networks, we will work with research and education networks around the world to contribute to becoming a powerful "artery" of the future Internet.

Jun Murai – ARENA-PAC, WIDE Project, CCRC/Keio University
---
About the APOnet Global Research and Education Networks
AARNet,Australia's Academic and Research Network provides advanced telecommunications services, along with an expanding range of cybersecurity, data and collaboration services, all designed to meet the unique and changing needs of Australia's research and education sector. AARNet serves over two million users at universities, research institutes, schools, vocational training providers, and cultural organizations who rely on the AARNet network and services for teaching, learning, and research. For more information, visit www.aarnet.edu.au or follow @aarnet on Twitter.
ARENA-PAC is an Asia Pacific Internet Development Trust (APIDT) Infrastructure Pty Ltd project and was established in 2020. ARENA-PAC inherited the Asia Pacific networking projects formerly run by the WIDE Project, and the WIDE project now operates ARENA-PAC. The WIDE Project was established in 1987 in Japan and has been connected to the global Internet since 1989 through the PACCOM Project at University of Hawaii. WIDE operated the M-Root DNS Server starting in 1997, which is now jointly operated with JPRS and APNIC. WIDE has played a steward role of the Tokyo side of IEEAF Pacific circuit in 2004-2009 and has hosted T-LEX as a GOLE of GLIF. With NAO-J, WIDE is currently hosting the PW-WIDE switch for 100Gbps TransPAC/PacificWave circuit in Tokyo, collaborating with Pacific-Wave, TransPAC, and APAN-JP. For more information, visit https://arena-pac.net.
Internet2 is a non-profit, member-driven advanced technology community founded by U.S. leading higher education institutions in 1996. Internet2 delivers a diverse portfolio of technology solutions that leverages, integrates, and amplifies the strengths of its members and helps support their educational, research, and community service missions. Internet2's core infrastructure components include the largest and fastest research and education network in the U.S. that was built to deliver advanced, customized services that are accessed and secured by the community-developed trust and identity framework. For more information, visit www.internet2.edu or follow @Internet2 on Twitter.
Korea Institute of Science and Technology Information (KISTI) is providing advanced research infrastructure to contribute to the advancement of national scientific, technical, and industrial development based on the national supercomputer and national research network (KREONET/KREONet2). The mission of KREONET is developing, building, and operating world-class national research network infrastructure and application platform with applying state-of-art network technology and providing advanced network service and collaboration environment to R&D community and researcher of higher education, national research lab or institute, Korea research and development agency, governments, library, university hospital, research lab of industry etc. https://www.kisti.re.kr/
National Institute of Information and Communications Technology (NICT) is Japan's sole National Research and Development Agency specializing in the field of information and communications technology. NICT is charged with promoting the information and communications technology (ICT) sector as well as research and development in ICT, which drives economic growth and creates an affluent, safe, and secure society. For more information, visit https://www.nict.go.jp/en/ and https://testbed.nict.go.jp/jgn/english/.
National Institute of Informatics (NII) operates the Science Information Network (SINET), an information and communication network that connects universities and research institutions throughout Japan via nationwide connection points. It is designed to promote research and education as well as the circulation of scientific information among universities, research institutions, and similar entities. SINET is also connected to research networks, such as Internet2 in the U.S.A., GÉANT in Europe, and Asian research and education networks, to facilitate the dissemination of research information and collaborations over networks. For more information, visit http://www.sinet.ad.jp.
Pacific Wave is a distributed international network peering and exchange facility for connections between the US and the Asia Pacific and Oceania regions, with peering points in Seattle, Sunnyvale, Palo Alto, Los Angeles, and Tokyo. Supporting 29 networks representing over 47 countries, Pacific Wave is a joint project of the Corporation for Education Network Initiatives in California (CENIC) and the Pacific Northwest Gigapop. Pacific Wave supports advanced services including connectivity with the Pacific Research Platform (PRP), AutoGOLE dynamic circuit provisioning, experimental inter-domain SDX collaborations, and access to 100-400 Gbps Data Transfer Nodes (DTNs) to accelerate large data transfers over long-haul high-capacity international links. https://www.pacificwave.net/
REANNZ is New Zealand's Crown-owned National Research and Education Network. REANNZ operates and supports a specialist high-performance digital network that is engineered to meet the unique demands of scientists, researchers, innovators, and educators. With access to large data transfer capabilities and network tools that encourage multi-institutional collaboration, New Zealand has access to the world's unique science facilities and global collaboration opportunities. https://www.reannz.co.nz/
Singapore Advanced Research and Education Network (SingAREN) is Singapore's national research and education network. It is the sole provider of local and international networks dedicated to serving the Research and Education community in Singapore. SingAREN's members consist of the Institutions of Higher Learning, Research Organizations, Government, and network industry players. SingAREN facilitates high-speed transfers of large datasets across international boundaries for scientific research and enables advanced network technology demonstrations through its resilient international links and high-speed fiber network. SingAREN Open Exchange (SOE) interconnects Singapore's research and education community to the Research and Education Networks (RENs) in other countries, including Asia, Australia, Europe, and the US. SingAREN offers value-added services to Singapore's Research and Education community, including Eduroam, Singapore Access Federation (SGAF), and Database Mirroring Services. https://www.singaren.net.sg/
TransPAC, part of the International Networks at Indiana University (IN@IU) portfolio, is a U.S.A. National Science Foundation (NSF)-funded collaboration that supports high-speed networks and their use for collaborative data sharing in science and research. In addition to supporting trans-oceanic high-speed circuits, IN@IU supports direct work with end-users to improve their data transfers, international networking testbeds, and the use of advanced network technologies. https://internationalnetworks.iu.edu/
University of Hawaii (UH) is Hawaii's system of public higher education, founded in 1907, consisting of ten campuses and dozens of research facilities and community-based learning centers located across the Hawaiian Islands. Together with our regional and international partners, UH supports high-capacity research and education networks that interconnect with most of the major network operators throughout the Pacific region. https://www.hawaii.edu/